Bored with continuous work here is some daily motivation Images with quotes that will inspire you and will give you positive vibes.
International standard ISO 8601 certified the name of the week where Monday is the first day of the week. It is followed by Tuesday, Wednesday, Thursday, Friday, and Saturday. Sunday is the 7th and last day of the week. Out of 7 days in the week Saturday, Sunday and Monday are named after the celestial bodies of Saturday for Saturn, Sunday for Sun and Monday for Moon, but the other days are named after Germanic gods, Tuesday (Tiw's day), Wednesday (Woden's day), Thursday (Thor's day) and Friday (Freya's day).
Looking for some inspiration then in this blog you can find quotes to recharge , encourage and motivate yourself with all positive words to remove stress, work pressure and depression.
"The Tuesday scowls, the Wednesday growls, the Thursday curses, the Friday howls, the Saturday snores, the Sunday yawns, the Monday morns." – Samuel Beckett
Why are week days important ?
Week days are important to mark your hard work for 6 day and rest a day which is Sunday to recharge yourself for the next 6 days of the week . In ancient times there were no holidays all the 365 days they used to work . People with no holiday have no rest day to relax and spend time with family . So Sunday was introduced as a holiday to mark a rest day and prepare your next 6 days in advance.
Every day is important as every second of our life so we need to use every second of our life to fulfill all our duties in this life only. Here some daily motivation Images with quotes that will motivate your week .
Monday motivation quotes
Tuesday transform quotes
Wednesday wisdom quotes
Thursday thought quotes
Friday fabulous quotes
Saturday strength quotes
Sunday soulful quotes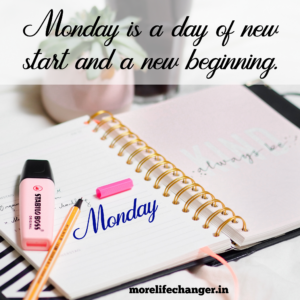 Monday is a day of new start and new beginning.
Meaning- Monday is the first day of the week so every Monday we can make a new start forgetting our ad past and can begin a new start for new life. Each and every moment is very precious and we should not waste it.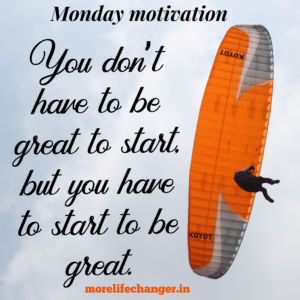 You don't have to be great to start, but you have to start to be great.
Meaning– In order to get success and fulfill your dreams you need to start doing it . To start you don't need to be wealthy but you should be hardworking and passionate to achieve your goal. You should not give up in the middle or you should not stop hoping that you will gain success. If your work reaches the limit you will definitely gain from it. People will be always confused whether they will get success or not and in that confusion they won't start only . So to start something good you need to be great enough to keep continuing it till you achieve the goal.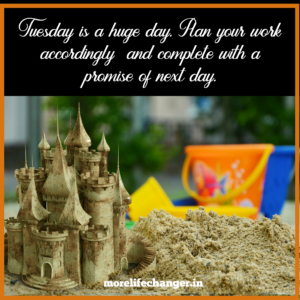 Tuesdays are a chance for a new beginning and a new perspective, so make them count.
Meaning – The second day of the working week is a day where you can start to begin if you missed on Monday. Because you won't get the chance every time to correct the mistake . So grab the opportunity and do it before it's too late. Time matters as the clock is ticking and moving fast.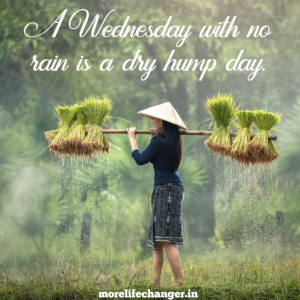 A Wednesday with no rain is a dry hump day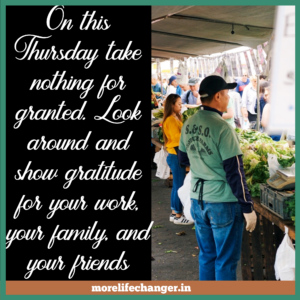 On this Thursday take nothing for granted. Look around and show gratitude for your work, your family, and your friends.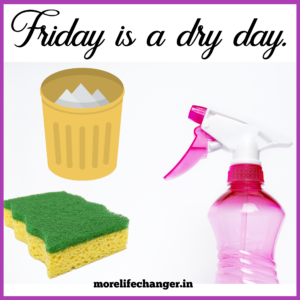 Friday is a dry day.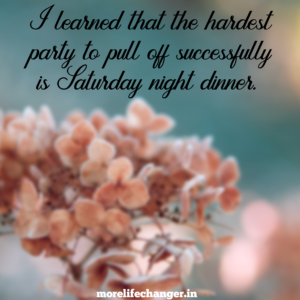 I learned that the hardest party to pull off successfully is Saturday night dinner.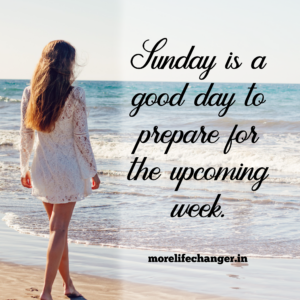 Sunday is a good day to prepare for the upcoming week.
Inspiring daily quotes
"Make each day your masterpiece." – John Wooden
"Don't count the days. Make the days count." – Muhammad Ali
Please join discussion on Facebook about world facts and its secret.