Get prepare with Sunday soulful quotes for weekdays. Sunday is a day we get to rest from work. It is a good day to prepare for the upcoming week. Sunday is a time when you sit back and reflect on all the blessings that you have received. Smile at all the good things that you are enjoying.
Day full of household work
You could prepare by going for grocery shopping, doing laundry, planning your outfits for the week, or by cooking yourself healthy meals for the week. There is always something new to learn and feel the energy.
Complete pending work
Time to recover and think how you gonna kill the Monday . If we spend the Sunday well then it will bring the content for a week. Sunday is the day when People should prepare for the week ahead by making improbable To Do lists. Its like wonders of the weekend. Sunday evening is reminder that you can handle whatever this week throws at you.
Also read – Daily motivation quotes
Quotes
Sunday is the perfect day to refuel your soul and to be grateful for each and every one of your blessings. Here is some amazing Sunday soulful quotes that will make you to bind together the volume of the week.
"Sunday clears away the rust of the whole week." – Joseph Addison
"Be in the habit of getting up bright and early on the Sunday . Not to waste such precious time in bed" – Marilyn vos Savant
"The feeling of Sunday is the same everywhere, heavy, melancholy, standing still." – Jean Rhys
"Do not let Sunday be taken from you. If your soul has no Sunday, it becomes an orphan." – Albert Schweitzer
"Start this Sunday with a clean heart. No doubt, no tears, no fear, no worry. Thank God for his priceless gifts and miracles throughout the world."
"Sunday is a bit like rainbows, they look good from a distance but disappear when you get up close to them." – John Shirley
"Don't judge men's wealth or godliness by their Sunday appearance." – Benjamin Franklin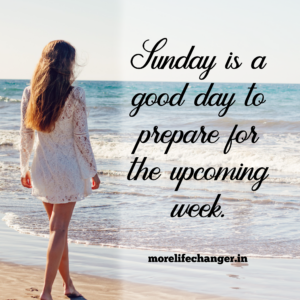 Sunday is a good day to prepare for the upcoming week.
Please join discussion on Facebook about world facts and its secret.