If you're among the majority of people who love Fridays then Friday fabulous quotes will enhance your joy and happiness.
Friday is not just another day of the week. It is actually the most expected and beloved day since it marks the beginning of the weekend. Friday is great because it's a day we can reflect on an awesome week that was. There is no day quite like Friday. For many people, Friday is one of the best days because it's the last day of the workweek of school week.
Why is Monday so far away from Friday but Friday is so close to Monday?
Friday is all about , Wake up with a bounce. Time to sparkle & Shine. When you start to do the things that you truly love, it wouldn't matter whether it is Monday or Friday, you would be so excited to wake up each morning to work on your passions. Friday a free day and a woman's day.
In preparation for takeoff, please ensure all negative attitudes are properly stowed. Share the love that was missing during the week, In a worthy moment of peace and bliss. The Friday fabulous quotes will cheer you for your weekend.
Also read – Daily motivation quotes
Quotes
I buried my dad on a Thursday and showed up for work on Friday. -John Schnatter
Friday is a day to finish your goals for the week. It is a day to celebrate that which you set out to accomplish at the beginning of the week. Well done. – Byron Pulsifer
Put your pencils down and close your books. No more teachers, no more school, you are free! Go lay down in the sun or watch a movie. It's Friday, You deserve a break.
Employers are at their happiest on Mondays. Employees are at their happiest on Fridays. – Mokokoma Mokhonoana
Friday is fabulous
Oh! It's Friday again. Share the love that was missing during the week. In a worthy moment of peace and bliss. – S. O'Sade
Music always sounds better on Friday. – Lou Brutus
Friday is about hanging out with friends, having fun. – Rebecca Black
People wait all week for Friday, all year for summer, all life for happiness. – Raimonda.B
This Friday, finish your work and be done. Look forward to the weekend and have some fun! – Kate Summers
It's Friday. Time to go make stories for Monday.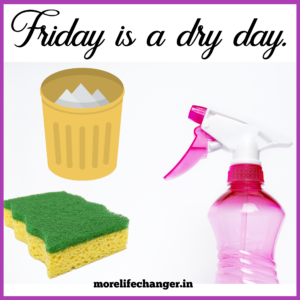 Friday is a Dry day
Please join discussion on Facebook about world facts and its secret.