Increase the sweetness in your relationship with Happy Chocolate Day Quotes with HD images. A perfect stress buster and a proven mood up lifter, chocolates wave a magic wand on everyone who love to relish them now and then.
The third celebration is Chocolate Day which is on February 9 which makes your bond special with that one thing that's sweeter than love and it of course chocolates. Gift him or her a basket of delicious homemade chocolates oozing with cream and truffles so that the sweetness of chocolate gets immersed into your relationship.
Increase sweetness in life
Falling during the Valentine's week, Chocolate Day is the best moment to express one's emotions to all the special people in our lives with the sweetness of chocolates and celebrate the joy of having them in your life at the same time.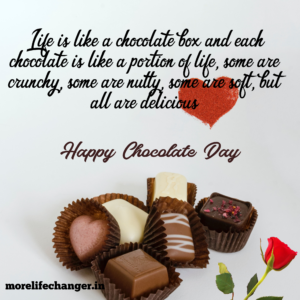 The day is all about sharing sweet treats with your family, friends, and loved ones and making it special. Insert some other gifts into the basket that would shower him or her with extra sweetness and will make them know how sweet you find them. Touch their heart and soul with the sugary touch of the chocolates and these heart warming messages for chocolate day and make your bonds stronger and deeper with them.
Also read – Quotes for valentine Day .
Chocolate Day quotes for Darling
Every chocolate is like phases in life… Some are crunchy, some are soft, some are nutty, but all of them are delicious.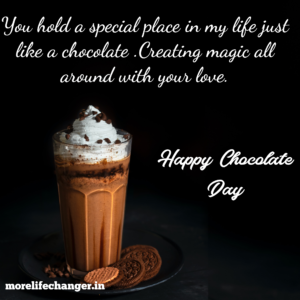 On this Chocolate Day, I am sending this chocolate box as an epitome of my immense love for you. Keep smiling always.
I searched for the sweetest chocolate on Earth but then I realized that nothing can be sweeter than you. I Love You. Happy Chocolate Day.
You are like a chocolate, the longer you eat, the sweeter it gets.
I wish that each day of your life remains sweet just like your favorite chocolate…Lots of love
Chocolate Day quotes for Handsome
I am dairy, you are milk, I am a kit , you are kat, I am five you are a star, in short, I am sweet but you are my sweetness. Happy Chocolate Day.
A day without a chocolate is a day without sunshine. Life without chocolate is like an ocean without water. Just like I am without you. Happy Chocolate Day.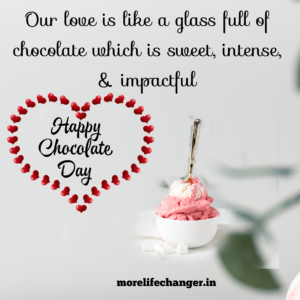 I want to give you a sweet chocolate at this chocolate day. And I want to be yours in this life forever. Happy chocolate day.
Chocolate Day quotes for Friends
There's nothing better than a good friend, except a good friend with chocolate. – Linda Grayson
Gifting a box of chocolates to friends is the best way to express your hearty emotions.
Any sad moment can be turned into a happier one with a box of chocolates and good old friends together.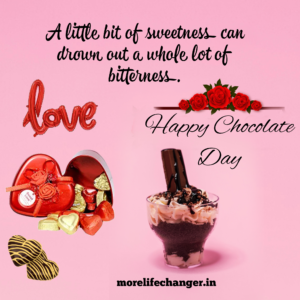 My dear friend,
Our friendship is as sweet as chocolate,
It would keep us close for long,
With its sweet taste and flavor.
Happy chocolate day.
Quotes
Hot chocolate is like a hug from the inside. – Violet Sueno
Everyone has a price – mine is chocolate.
A little bit of sweetness can drown out a whole lot of bitterness. – Francesco Petrarca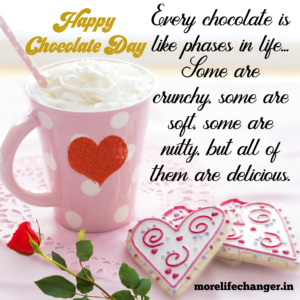 So spread sweetness with these wishes and messages that we have collated for you and your loved ones with Happy Chocolate Day Quotes with HD images.
Please join discussion on Facebook about world facts and its secret.