The celebration of International yoga Day is on 21 st June every year. This international yoga day motivates us to be healthy. We all know health is our wealth . Therefore it's our foremost duty to keep ourselves healthy and strong. This strength is about mental strength , physical strength and soulful strength and inner strength.
Difference between yoga , meditation , and exercise.
Yoga is all about harmonizing the body with the mind and breath through Yoga poses (Asanas). Right posture is very important while practicing yoga.
Meditation is a practice where an individual uses his mind to focus on any object to improve concentration ang gain a stable state. Even it helps us to become more aware of our surroundings. Finally, by medication people can control all five senses of the body .
Exercise is physical activity that is planned, structured, and repetitive for the purpose of conditioning the body. Exercise consists of cardiovascular conditioning, strength and resistance training, and flexibility.
Founder of Meditation

The Founder of meditation is Lord Shiva (Adi yogi) . The oldest book in the world is Rig Veda, which clearly describes the meditation of Lord Shiva .

Founder of Yoga

Founder of yoga is Patanjali . In his book Yoga sutras he describes the various sutras of Yoga . Also this book is the first book in the world which describes the theory and practice of Yoga.

Founder of exercise

In the 16th Century, around the start of the Scientific Revolution, physicians began to write books on exercise. One of the earliest known books on exercise was the Book of Bodily Exercise, written by the Spanish physician Cristobal Mendez.
Benefits of yoga

There are many benefits of yoga . And Yoga day motivates us to be healthy so read to know the benefits.

Yoga removes stress

Yes , Yoga is helpful in relieving stress. Also helps in relaxation. Regardless of this it energizes your body. Perhaps it is an antidote to a hectic lifestyle.

Yoga increases your flexibility

When you practice yoga you have to stretch your body which increases flexibility. In addition it allows the nervous system to release the muscles gently. While we practice yoga it reduces the risk of injuring ligaments . Consequently it helps your body to open up more.
Also read – Truths and myths of working woman. What is reality face it .

Yoga helps to build strength

Daily practicing yoga strengthens the muscle and its functionality. Above all it rejuvenates the core strength of our body. Right poster keeps you safe from injury and improves balancing technique. Furthermore it supports and controls body weight.

Yoga improves balance of body

One of the great things about yoga is balancing practice. Firstly it helps to address imbalances. Secondly it lengthens the tight areas. Finally it strengthens weak areas. Even if it solves the increasing problems with increase in age.

Yoga keeps your joints stabilized

The posture of yoga helps in strengthening the muscles around joints. The movement in joints while performing yoga helps in lubricating and improves flow of synovial fluid. Eventually reduces pain.

Yoga increases concentration

As we know yoga is all about uniting mind , body and breadth. It promotes positive mental health. In particular it strengthens the immune system. In fact, it helps in building social relationships. Meanwhile it controls anxiety.

Yoga lowers blood pressure

As we are aware, high blood pressure increases the risk of both heart attack and strokes. Therefore reducing stress can be a contributing factor to control the blood pressure. Some poses like Supported Bridge Pose, Legs Up The Wall Pose and of course Savasana or Corpse Pose are particularly beneficial for those with high blood pressure.

Yoga helps to make healthier life choices

The best thing about yoga is it helps you to tune into what your body wants and needs. Even it treats bodies with better nutritional choices . Admittedly reduce reliance on alcohol or tobacco which is injurious to health .

Yoga improves breathing

The basics of yogic practices lie in pranayama. You can also call it yogic breathing techniques. Controlled breathing can increase energy levels and relax the muscles. Also helps to remove depression. Regular practice of yoga can boost the lung capacity . Especially helps asthma patients to recover soon.


Yoga boosts immunity

As a fact yoga helps in the body's natural healing process. In addition it increases the ability to fight disease and restore health .Additionally, the body recovers from physical injury. Lastly, improve sleep patterns.

What we learn from this
We have learned that yoga is part of our life. To remain healthy yoga should be practiced daily . Thus we see international Yoga day motivates us to be healthy .
Please join discussion on Facebook about world facts and its secret.
Quotes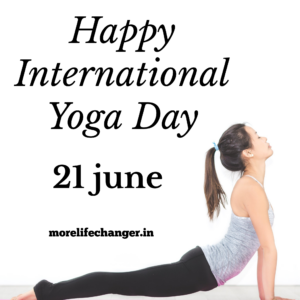 Happy International Yoga Day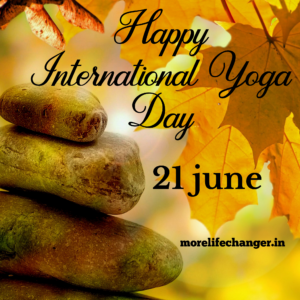 wish a a happy Yoga Day . Keep yourself healthy.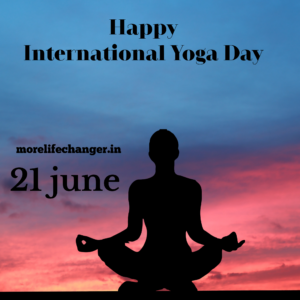 Right posture is important in Yoga.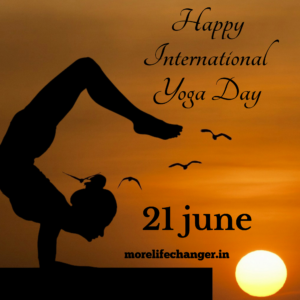 This 21st June promise to do yoga every day.