The name clearly tells us about the Seven sisters Waterfall that they are seven sisters. It is located 1 kilometer south of Mawsmai village in East Khasi Hills district in Meghalaya state of India. This waterfall is one of the 4th tallest waterfalls with height of 315 meters and width of around 70 meters. The best view of this waterfall is during the rainy season. During rainy season the falls plunges over the top of limestone cliffs of Khasi hills. As a result it appears as if the entire region becomes live. During summer season it gets completely dried up.
Nohsngithiang Falls
Seven sisters Waterfall is also known as Nohsngithiang Falls. The seven stages of the waterfall which looks strategically arranged side by side on a high rugged cliff . Eventually it resembles the seven sister states Assam, Arunachal Pradesh, Manipur , Nagaland , Tripura , Mizoram and Meghalaya . We can also hear a roaring sound due to the continuous flow of seven streams of waterfall . The best time to visit this waterfall is during June to September and the best place to visit in North-East-India .
Seven ladies are standing in white long clothes
Reaching this place is not a big deal because Cherrapunji is just 2 hours drive from the capital city Shillong. We have to trek into the Khasi Hills to view the beautiful waterfall. Seven sisters Waterfall looks like seven ladies are standing in white long clothes which are blown by the wind. Well if you look around the water which is draining and moving towards Bangladesh which is our neighboring country.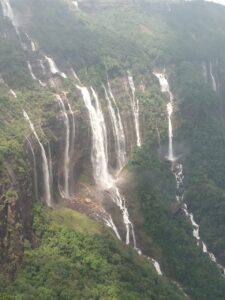 Heaven of Meghalaya
On visiting this place I felt like I am in heaven. Standing on the top of a hill I can even touch the clouds all around me. It is really an enchanting place . The Khasi Hills are covered with green color everywhere. Mother nature is staying in this place. For safety purposes the government has built a small footbridge over the stream so that travelers can click the perfect picture for them. Home stay and cafeteria are also available near it and we should arrange our own things to make the journey interesting and mesmerizing .
Viewpoint with rainbow
Well we can just enjoy the viewpoint only which is situated at Mawsmai village . And there is no possible way to get into the water as the hill is very deep down. We can also get the view of seven sisters from the Eco park which is built at the top of the plateau. This sight is incomparable valley and it exhibits a clear nature's hue. We can also have a view of seven colors of the rainbow present there which increases its beauty.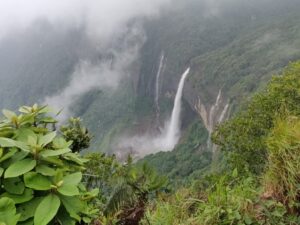 Waterfall is seasonal
We should always remember that waterfalls are serving as a hiking or trip goal and ultimately a sense of accomplishment while getting all the other benefits of spending quality time with nature. We exercise while trekking, spend some quality time with nature and collect lots of memories. Seven sisters Waterfall is seasonal and it presents the diversity of seven states of India which makes us explore different experiences with each fall we see but it also depends on weather flow and circumstances.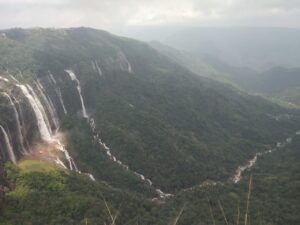 Some benefits of visiting this waterfall is breathing clean air. The soothing and relaxing effects inherent in the motion and mistiness of the waterfall which help our physical well being.
Please join discussion on Facebook about world facts and its secret.