Mesmerizing Rainbow Waterfall is situated in Meghalaya. We started trekking from the Double Decker root bridge up the hill which was very steep. After this strenuous trek we arrived at Rainbow falls where the Rainbow was visible when sunlight fell on it. The water was crystal clear which made people visit this mesmerizing place .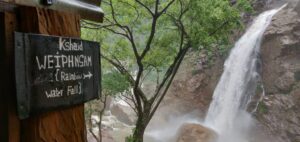 To view this fall, you have to do 3-4 hours of trekking. More than 3000 steps to climb down and then the forest trail will take you to the Waterfall Very beautiful waterfall and clean water. You can see Rainbow at multiple positions hence it is known as Rainbow Waterfall. It is worth visiting there though it requires some trekking effort to reach here. After reaching the Double-decker bridge, You need to trek 1hr more, then you will reach the Mesmerizing Rainbow Waterfall. The road is also adventurous.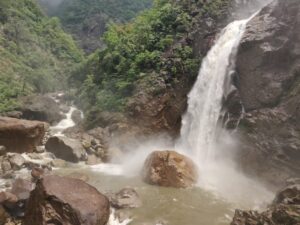 Adventurous trekking
Till Double Decker root bridge it mostly trek down, from there we have to start the climbing and according to locals it's around 7k steps from the parking, and 3.5 k steps from double decker root bridge which make it very tiring. Yes, it's physically challenging but Rainbow falls is mesmerizing. You can take a dip near the falls. We were lucky to spot the rainbow too. On our way back from falls we decided to halt near Double Decker root bridge. Few home-stays are available. Much needed rest after 10k steps at a stretch. If you start early, you can do both up and down on the same day .
View of rainbow
Secluded deep within the forest, the falls got its name because one will see small rainbows near the waterfall due to sun rays. The waterfall drops down into the pool wearing the natural rainbow sashay with pride. The path to Rainbow Falls though defined is not cemented and is a mix of alternating ascents and descents One needs to wear comfortable shoes, and also carry enough snacks, water and medicine while trekking to Rainbow Falls. Guides are mandatory to this trek and are available at Tyrna village. Better to finish the trek before 5 PM as it becomes dark early in Meghalaya.
Visiting places in Meghalaya
Please join discussion on Facebook about world facts and its secret.