On the festival of Chariot Happy Jagannath Rath Yatra greetings quotes will help to greet your near and dear ones. Above all in his festival millions of people gather from all around the world.
Indeed Rath Yatra or Rath – jatra is derived from two Sanskrit words. The first word Rath which means chariot or carriage. The second word jatra which means journey or pilgrimage. Furthermore other name for the festival is chariot festival. In fact this festival is famous all over the world .
Living God of Puri
Lord Jagannath is also the living God . Jagannath means Lord of the Universe. Also he eats food and sometimes get fever . In addition Lord Jagannath takes medicine during this period.
Rath Yatra
Moreover this Rath Yatra is the oldest Rath Yatra in the world. On this day lord Jagannath along with his siblings travel 3 km from Jagannath temple to Gundicha Temple. In addition Lord Jagannath along with hi siblings travel in chariot made up of wood. Altogether hundreds of devotees draw all this chariot every year .
Celebration date
According to the Hindu calendar, Rath Yatra falls on the second day of Ashadha month. As per the Gregorian calendar, it falls in the month of June or July.
Chariot of Lord Jagannath
Three chariots are represents three deities. One for Lord Jagannath , one for his sister Subhadra and one for his brother Balabhadra.
Lord Jagannath's chariot is of approximately 16 wheels
Goddess Subhadra's chariot is of 12 wheels
Lord Balabhadra chariot is of 14 wheels
Also read – Quotes on food that keeps you healthy
Quotes
With the blessings of Lord Jagannath, may our country scale new heights of growth. Happy Rath Yatra
May every Indian be happy and prosperous. Jai Jagannath
Involve in serving the Lord and you will find extending new heights every passing day. Happy Rath Yatra
May Lord Jagannath bless you in abundance and shower you with the virtue of truth. Happy Rath Yatra to all.
As you pull the wheels of Rath with full force, it is obvious that you will feel great pain and feel like dying. However, once it is over, you will be born again and that too with a fresh life and a lot to live for.
What we learned ?
Happy Jagannath Rath Yatra greetings quotes will help you to celebrate this festival and will increase its joy.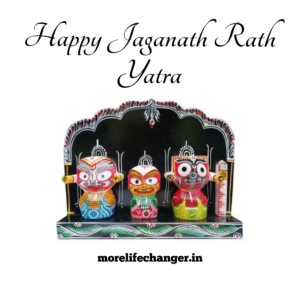 Wishing you and your family a Happy Jaganath Rath Yatra
Greetings on the holy occasion of Rath Yatra, may the divine Trinity bestow upon us peace, prosperity, and good fortune.
May Lord Jagannath bring in the best colors of success, prosperity, and happiness to your life. Wishing you and your family a blessed Rath Yatra!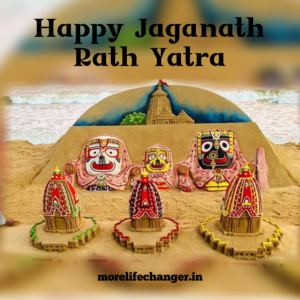 Happy Jagannath Rath Yatra! May the felicity and harmonious relations, surround you with his endless, love and physical intensity.
If your strength seems to fail during this auspicious task, just remember Lord Jaganath's brave tasks and let them inspire you.
The fun of Rath Yatra is the hot jallepis that are sold in every fair held in the city. Have a great Rath Yatra, stay blessed.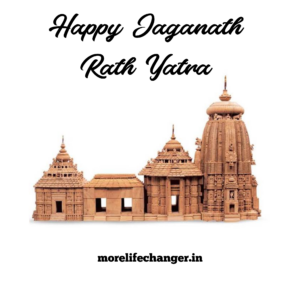 The challenge of a Rath Yatra is such that those who manage it shall find life less challenging.
During the Rath Yatra, you might feel like dying from the pain, but once you complete it, you will feel like you've been born again.
As the yatra becomes tough, with every breath take Lord Jagannath's name and feel energized. Have a blessed Rath yatra.
Please join discussion on Facebook about world facts and its secret.